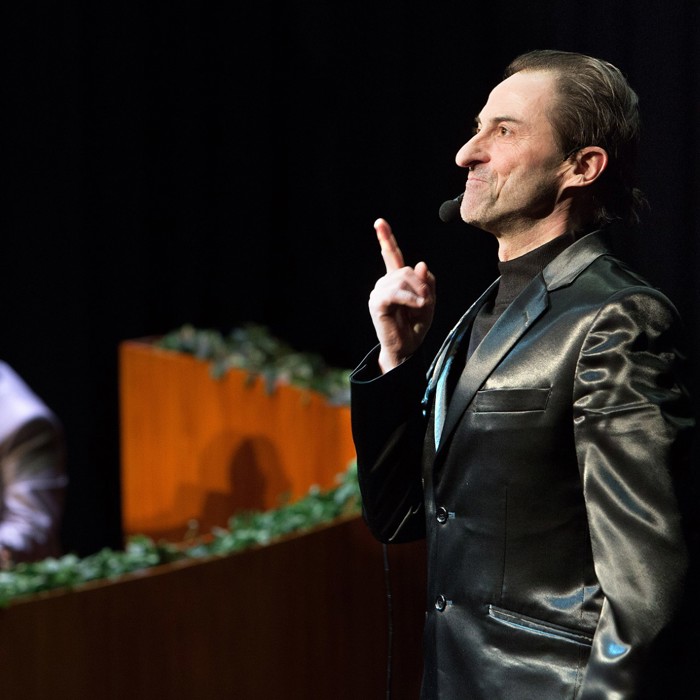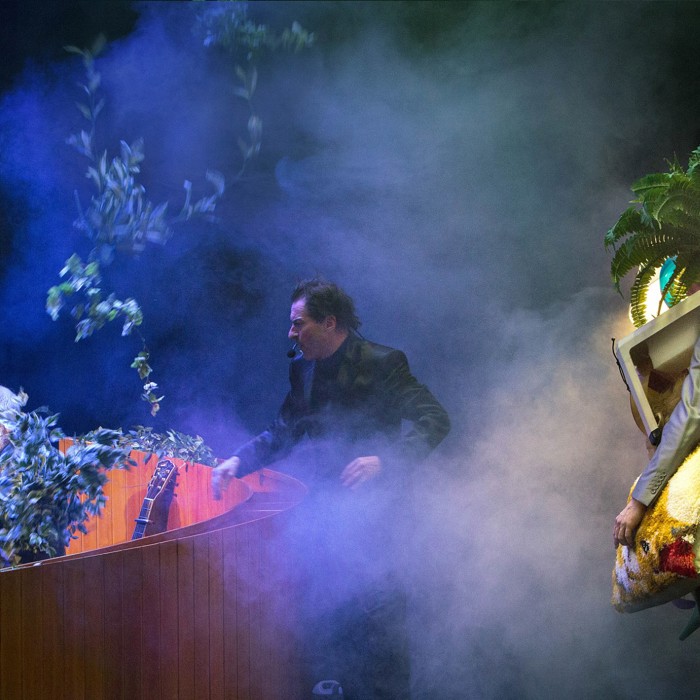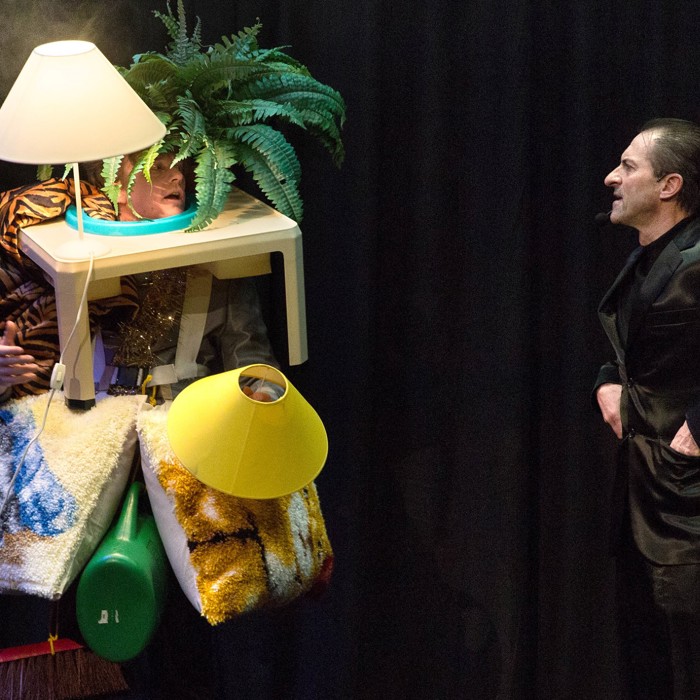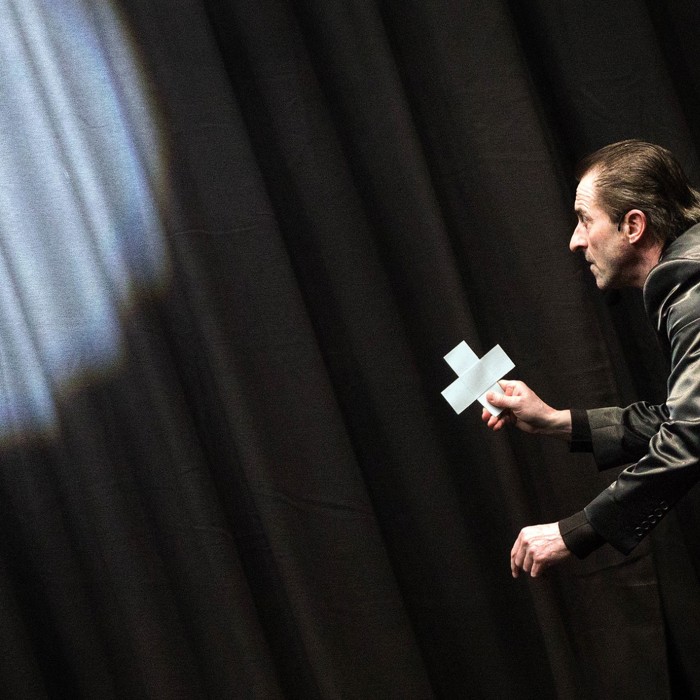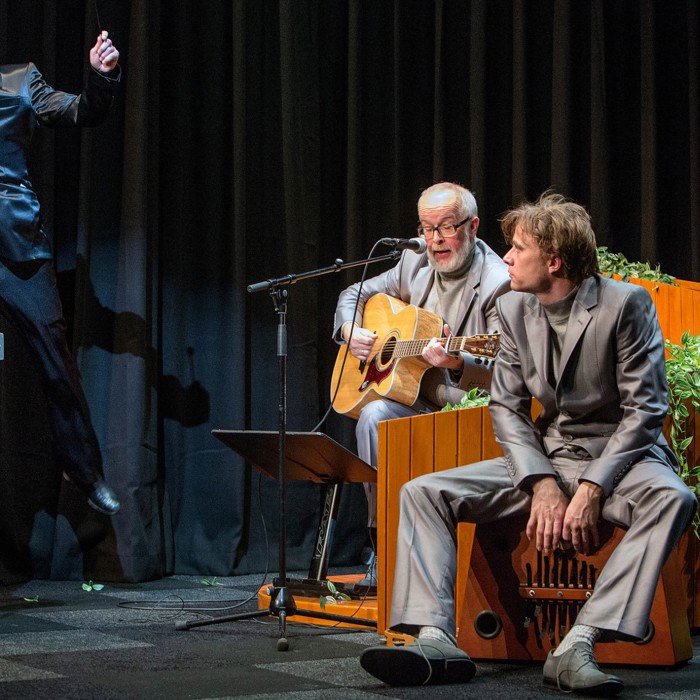 Encyclopedic pretentions in a performance for toddlers
The Man Who Knows It All / 4+
Age:
4+
Genre:
Theater, Music theater
The Man Who Knows It All
The actors René van 't Hof and Tjebbe Roelofs go together on a quest in search of all encompassing knowledge. Along the way it becomes evident that "question" and "answer" hit it off well together. While sharing a sandwich they clear themselves a path through an ever-changing world. Knowing everything is apparently more difficult than they had imagined, because…what if one thing can suddenly change into something else? And how do you fit something like "gloominess" into a bright PowerPoint presentation?
Jetse Batelaan
The Man Who Knows it All is the fourth and final part of a series of performances for young audiences that Jetse Batelaan has made for what is now Maas Theater and Dance (he began this work for Max., one of the forerunners of Maas). His point of departure up until now for these pieces was "what the target group interests the least." He confronted children of 8 and up with a fun version of boredom in "Performance in Which Hopefully Nothing Happens" (2005, Gold Cricket Award). For kids from 10 up het explained how everything should be in The Wagging Finger (2008, Silver Cricket Award and nomination for the VSCD Mime Award). In PLAY he threatened the 14 and older crowd with the worst of the worst: Art itself. And now comes the last part, for those starting at age 4: no harassing the kids this time, but rather an ode to the elementary power of theatrical imagination. Jetse is the artistic director of Theater Artemis since March 1, 2013.
Jury report Zilveren Krekel (award best Youth Performance)
"An uncommonly original show for pre-schoolers! With De man die alles weet director Jetse Batelaan has managed to rouse his audience, ranging from the very young to grownups, and make them roar with laughter. The show kicks off with a catchy song by Keimpe de Jong: 'Here's the man who knows it all, he's unforgettable'. Until the arrogant man-who-knows-it-all starts to make mistakes, and his young viewers are compelled to call out suggestions to help him, creating a sense of chaos and anarchy that is rarely evoked or allowed in theatres. An accomplished entertainer, René van 't Hof keeps his fired-up audience on a string; sometimes thanking a child, sometimes responding with vexation. His helpful side-kick, performed with great humour and timing by Tjebbe Roelofs, brings some wonderfully wacky creations and asides. Together they form an irresistibly funny Batelaan-duo, with disorderly help from the mood-boosting multi-musician De Jong" VSCD-jury.
extra info

extra info

extra info

extra info

extra info

extra info

extra info

extra info

extra info

extra info
Credits
Performance:
René van 't Hof, Keimpe de Jong (music), Tjebbe Roelofs
Photography:
Phile Deprez (scene image), Noa Verhofstad (campaign image)
The Man Who Knows It All – tour 2014 was a Maas Theater and Dance production in collaboration with Theater Artemis. From 2015 is this show a production of Theater Artemis.
Er zijn nog geen reacties op The Man Who Knows It All
We zijn benieuwd wat je van deze voorstelling vond! Laat je het ons weten?