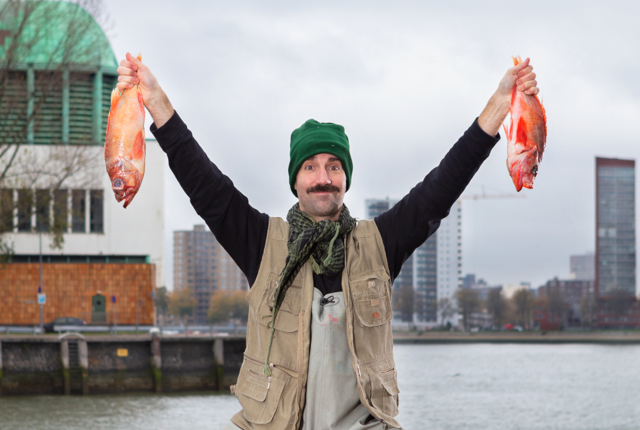 René Geerlings has been Maas Theatre and Dance's artistic director since January 1, 2021 and is Moniek Merkx's successor (2013-2021).
René Geerlings graduated in mime at the Theatreschool of Amsterdam in 1999. Since graduating, he's been active in his role as an actor, teacher, director and art-director. As an actor, he's performed in 'Performance in which Hopefully Nothing Happens' by Jetse Batelaan with Theatre Group Max. (Gouden Krekel 2005), 'Martha Loves George' by Boogaerdt / VanderSchoot, 'The Entry...' by Sanne van Rijn and Magne van den Berg (nominated for the VSCD Mime Prize in 2010), 'Stand Up and Lie Down' by De Gemeenschap (nominated for the VSCD Mime Prize in 2015).

Together with Job Raaijmakers, he also created and starred in 'Monkey and Bear' (Gouden Krekel 2012) and 'Don't Skip' (Zilveren Krekel 2014) with STIP. With Theatre Group Max. and Maas Theater and Dance he directed 'Wanted: Rabbit' (3+), which was translated in four different languages and performed in theaters and at several festivals throughout Europe over 500 times. The play was also performed in Turkish as a co-production with the ATTA Festival (Istanbul) in various cities throughout Turkey and Cyprus.
From November 2012 until December 2020, René was the artistic director of BonteHond, where he directed 15 different plays, such as 'iPet' (Zilveren Krekel 2015), 'Know Me', 'Get 'M', 'Klucht', 'Daddy & Mommy' and the festival plays 'Aso', 'I' and' Fun'. He toured the world with some of his shows for the very youngest and his productions for kids are regularly nominated for the Zapp Theatre Prize Audience Award / Podium Kids Prize. In 2020 he created his first main-stage production; 'The Mistress Ballet'; a co-production from Maas and BonteHond. During the fall of 2020, he worked on his final production with BonteHond, titled 'WhoDidIt'.
Geerlings is known for his remarkable and accessible youth-theatre shows, and for being able to get people laughing about serious matters and crying about seemingly unimportant matters. He likes to flip that which seems logical right on it's head.
Starting January 1, 2021, René Geerlings took over as artistic director of Maas Theatre and Dance from Moniek Merkx. At Maas, he will be creating two annual tour-productions and assisting talent in creating shows for children and youngsters. He will also be laying out the artistic roadmap into the future for the Maaspodium and crew. At Maas, René will be creating the shows 'BullyBully' (3+) and 'The Big Save Your Butt Show' (6+).