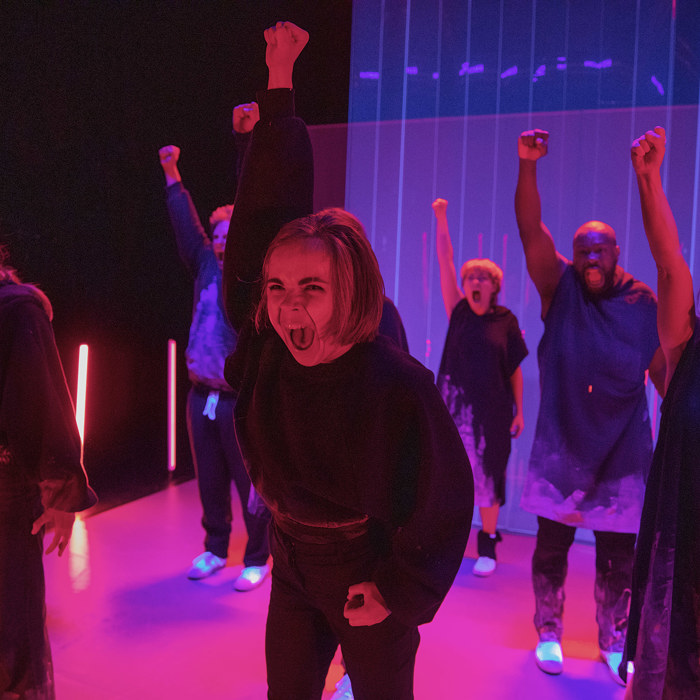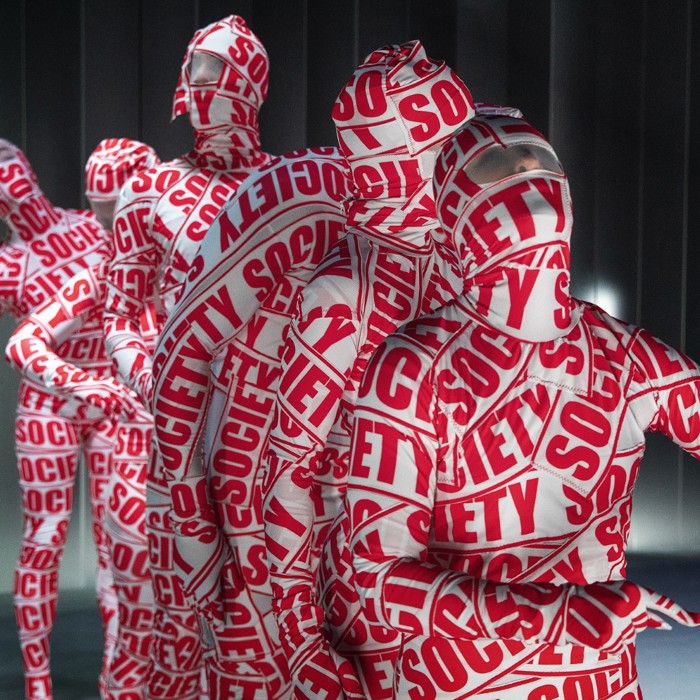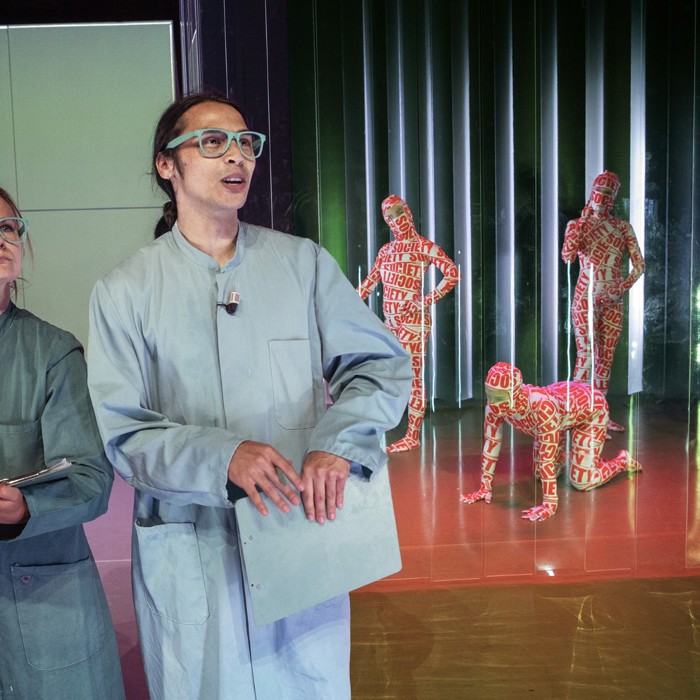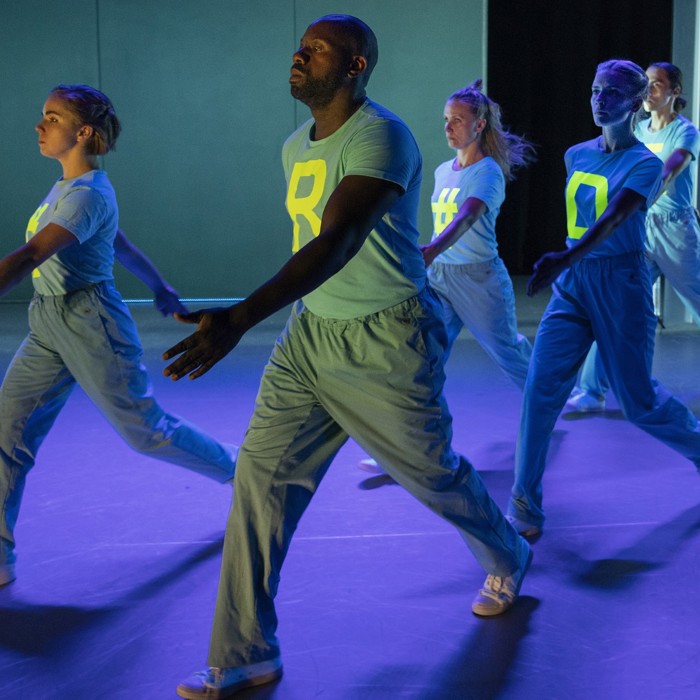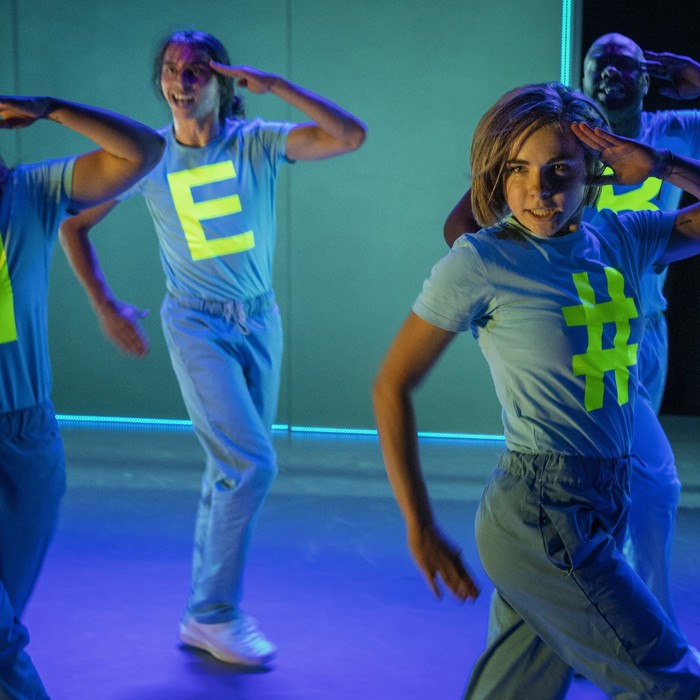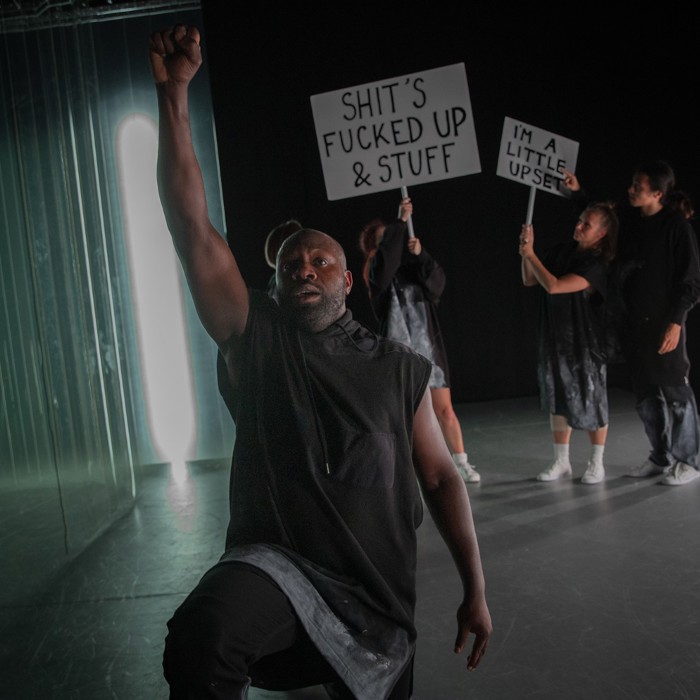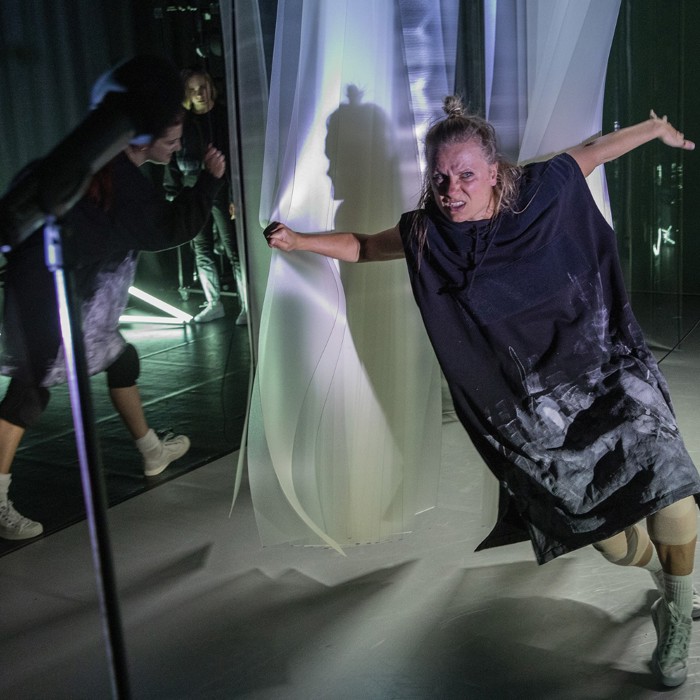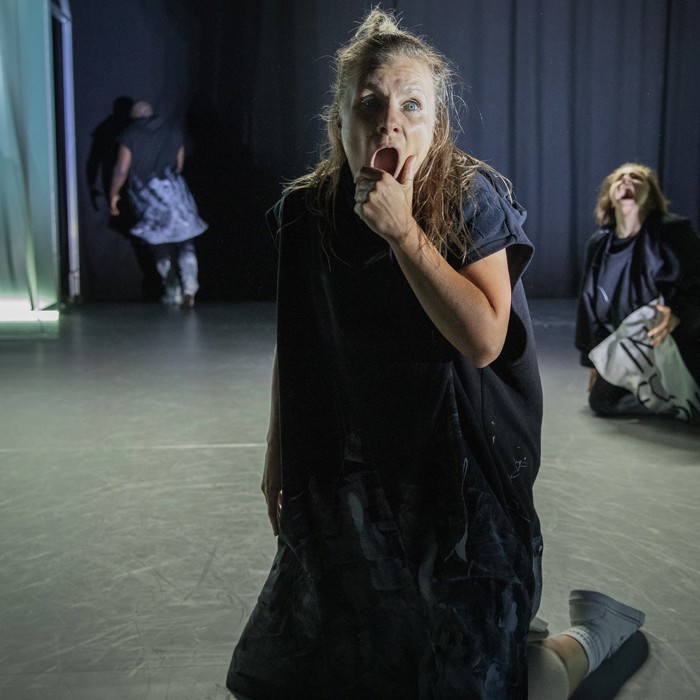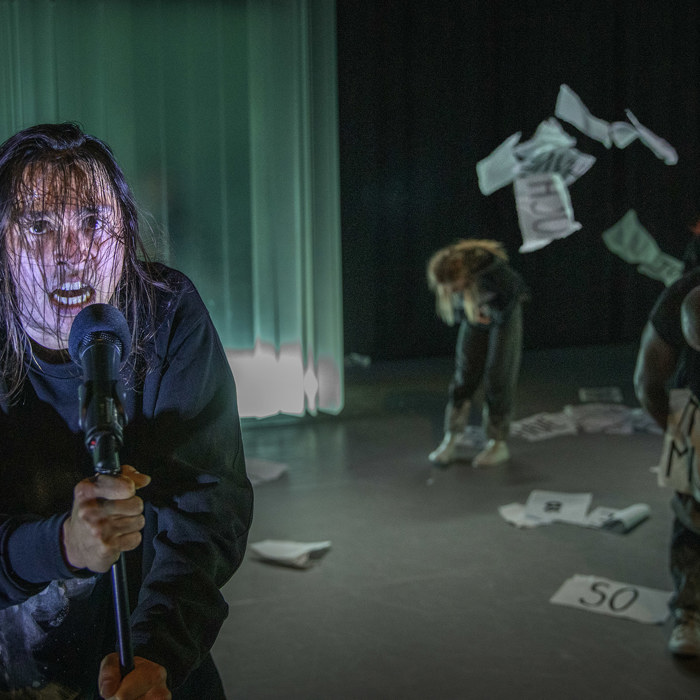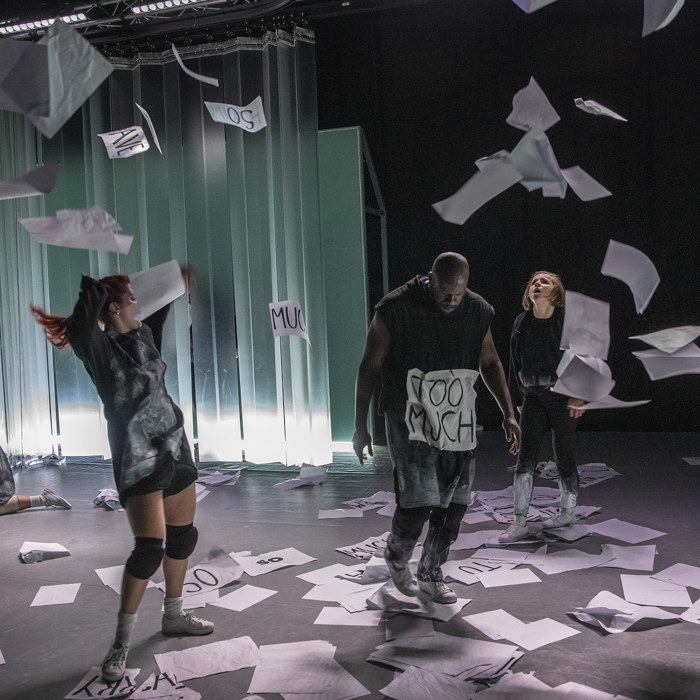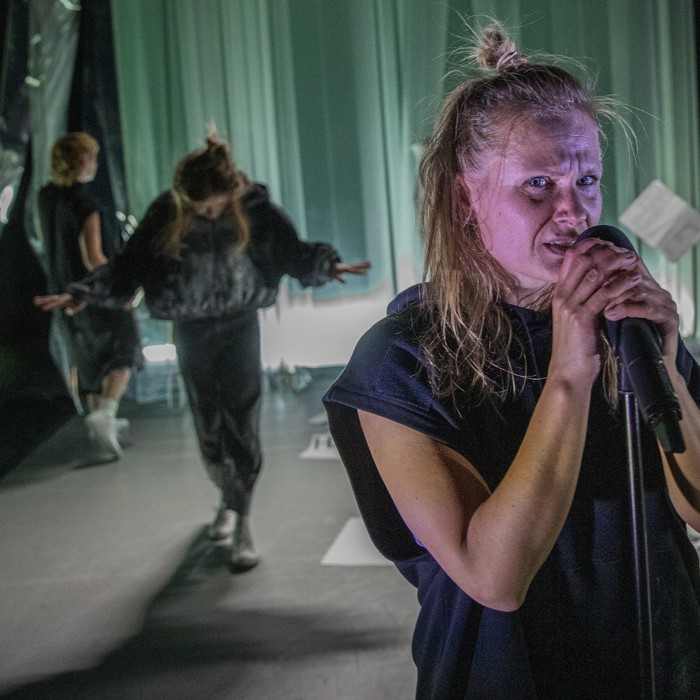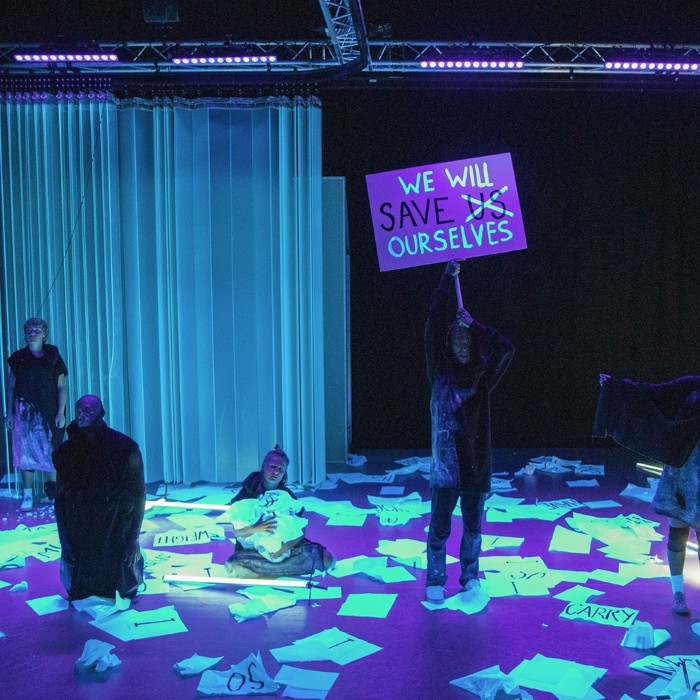 you're never to young to make a change
REVOLT / XL
By:
Maas Theater and Dance
Age:
XL
Genre:
Dance, Theater
Theater aan het Spui, The Hague
Theater De Krakeling, Amsterdam
Theater Zuidplein, Rotterdam
Stadsschouwburg Groningen, Groningen
Festival Tweetakt
Cancelled
REVOLT
Are you brave enough to stand up for what you believe in? Willing enough to go out in the street to defend what you stand for? Are you a do-gooder, a Calimero or are you an ostrich?
The dance-theatre performance REVOLT covers themes like rebellion, peer pressure and protesting. It's a show about thinking critically, as opposed to hiding behind the opinion of the group. A show about the lies of word-leaders and the collective denial of the truth. Do you want to have an impact on the world and have a say in your own future? Do you dare say what others are too afraid to? Change begins with oneself and every large movement started out small. REVOLT is a wake-up-call. A call that says: "Young people, use your voice, stay close to your authentic selves and make a difference."
REVOLT is being made in the defining multidisciplinary style of choreographer and theatre maker Cecilia Moisio. She mixes personal stories with realtime social experiments, performance, (music)theatre, video and dance. REVOLT is politically and socially engaging performance for people between the ages of 13 and 113 that will shake and stir you just the right amount. And it's full of emotions, vulnerability, humor and earnestness. From Cecilia's thorough preliminary investigation with youngsters between the ages of 12 and 25 years old comes REVOLT, a performance piece that blends the experienced bottlenecks of this age-group with socio-political matters.
Prior to REVOLT, Cecilia Moisio developed the youth-performance 'Victory' at Maas Theatre and Dance, which won her the 'Price of the Dutch Dance Days Young Audience' in 2019.
EXTRA INFO

EXTRA INFO

EXTRA INFO

EXTRA INFO

EXTRA INFO

EXTRA INFO

EXTRA INFO

EXTRA INFO

EXTRA INFO

EXTRA INFO
Credits
Concept, choreography and direction:
Performance:
Yulia Kalinchenko, Serano Pinas, Katarzyna Sitarz, Frankly Joe Maulany, Daria Titova (intern), Bianca Casaburi (intern), Anne-Mirthe Hofstede (intern) en Roy Sijkens (intern)
Young adults in video:
Carmen Mireille Tonkens, Isa Janse, Lis Wolfkamp, Niels van Rijswijk, Noor van Tuijl, Izah Hankammer, Neomie Chocolaad, Léna Aarts, Barend Elias, Jasmin Deekman, Lina Monte, Sander Koning, Bloem du Chatinier, Jelmer van der Wal, Carmen van de Brug. 
Music:
Joni Vanhanen, Marlon Penn
Preliminary stage Revolt Labs:
Cecilia Moisio about Revolt
"I wanted to make this production because it's so important to keep thinking critically and not always go with what is considered to be the 'norm', especially in today's age. I'm fascinated by our youths manners of protesting and voting and how Generation Z has to deal with becoming aware of the world and all of these 'movements'. They want to make right what previous have ruined, but often also fight against this wall of old ideals. They carry a lot of responsibility. When does this become too much for a single generation? And where do you start as an individual who wants to make a difference?
The common thread I let run throughout REVOLT is the fairy tale of The Emperor's Clothes. To me, this fairy tale functions as a metaphor for things I see happening in the real world, politically: narcissistic populists in positions of power, denial of global issues on a mass scale and people who believe their vote doesn't matter. In REVOLT, the emperor represents old ideas and the empowered patriarchy. His clothes represent the lies that we are continuously exposed to in our politics and media. The people represent our youth, who are about to or yet to find the courage to express themselves. The child, which in the story of The Emperor's Clothes is alone in acknowledging that the emperor is naked, represents every young activist that, similar to Greta Thunberg, is brave enough to speak their truth and take on a position of leadership. My mission with REVOLT is to boost the morale of the youth and to indicate how important it is that they keep thinking independently and that their voices be heard. I want to fan the flame of the young viewer's activism and motivate them to make a difference in our society."