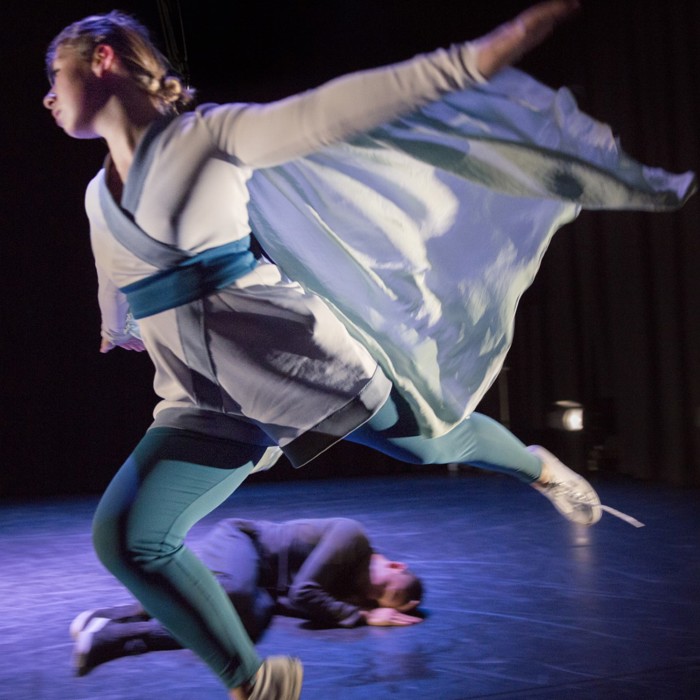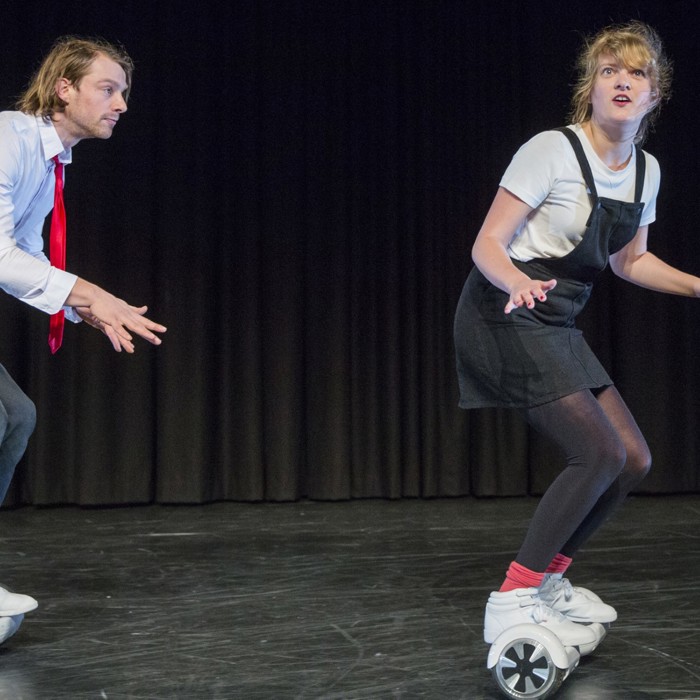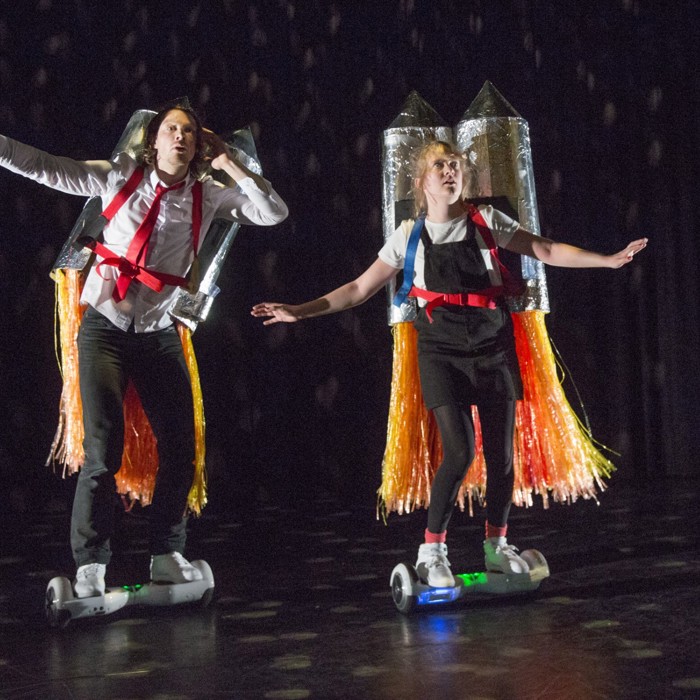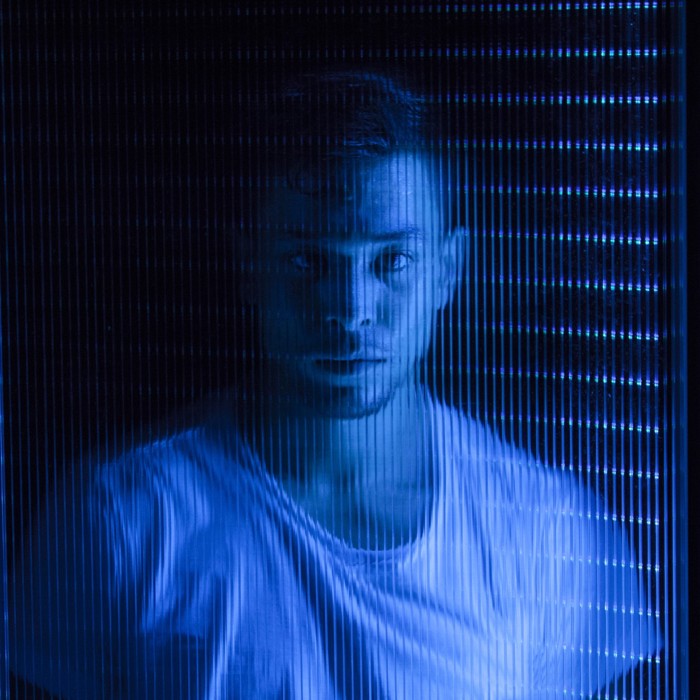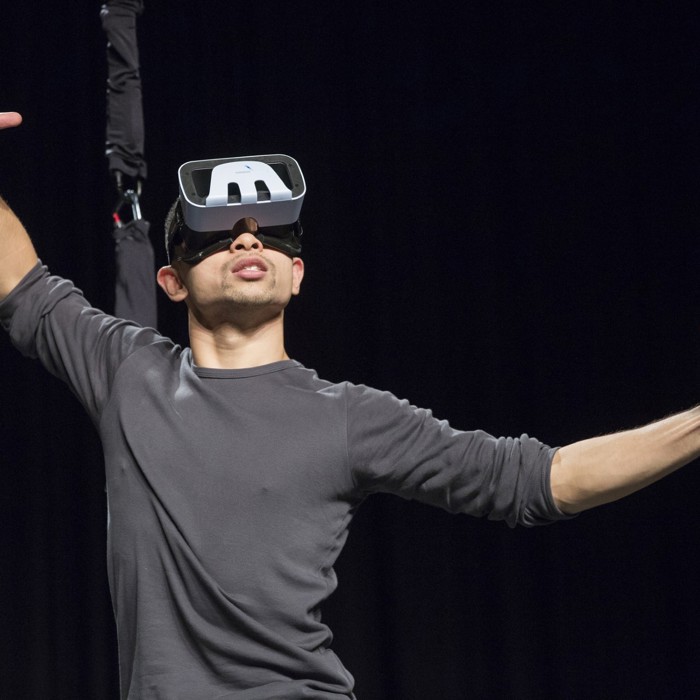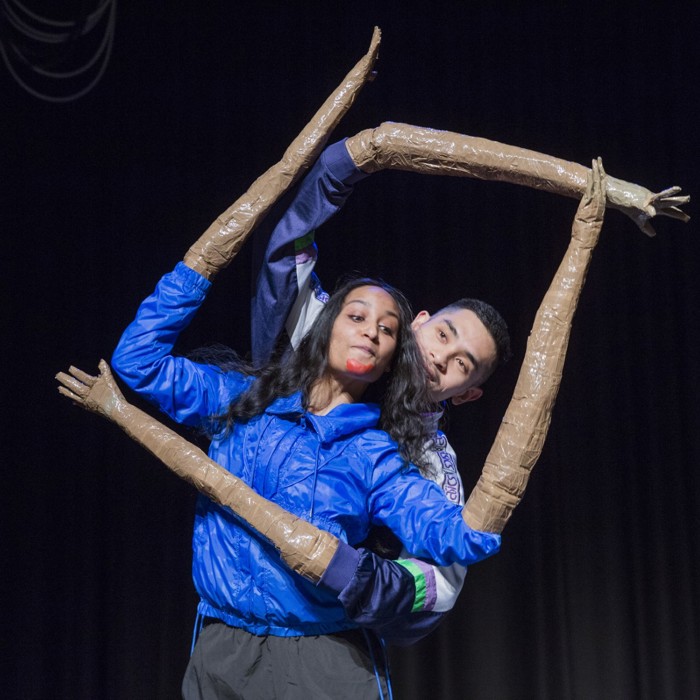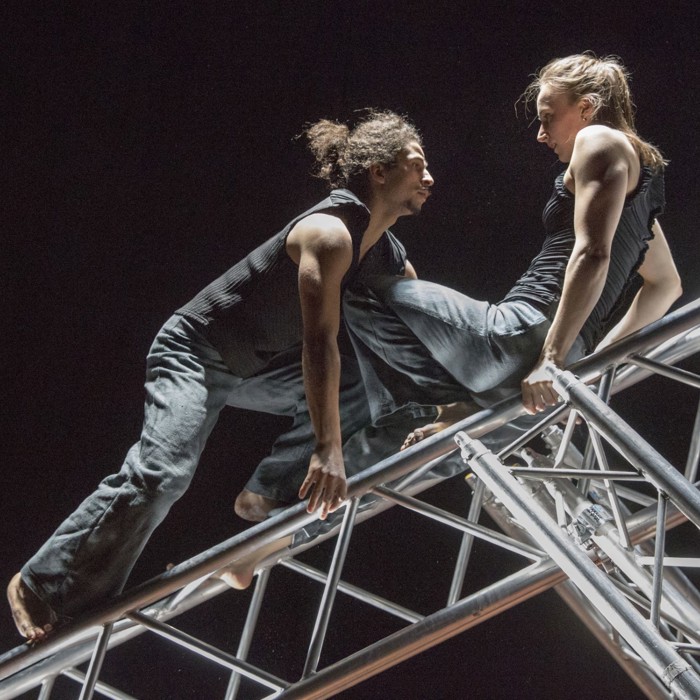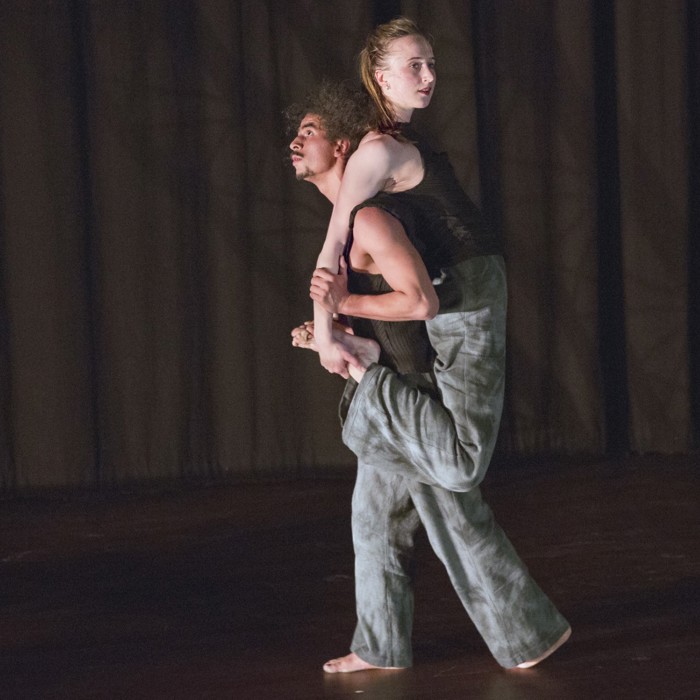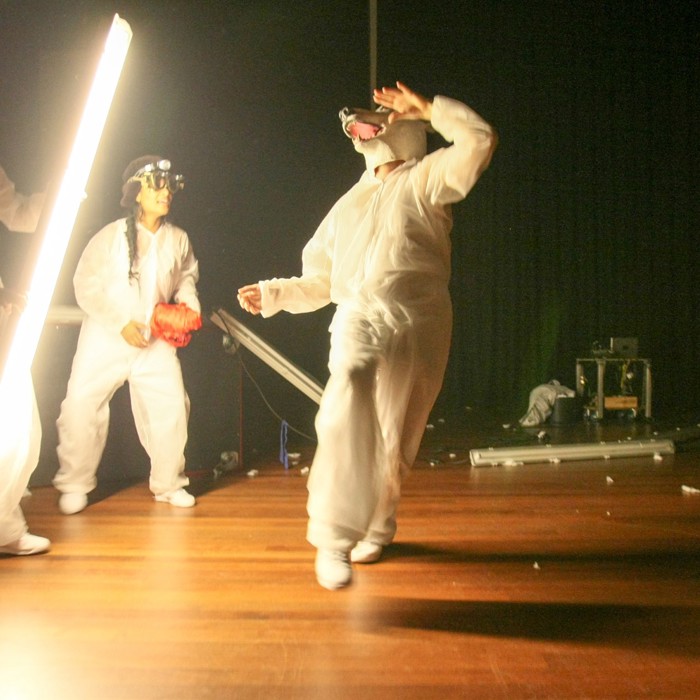 Six surprising short performances
Wild Game Unchained 2017 / 8+ and XL
By:
Maas Theater and Dance
Age:
8+ and XL
Genre:
Theater, Dance
Wild Game Unchained 2017
Prepare yourself for anything in Wild Game (Unchained). Maas is in search of new forms, stories and spectacle, and has created a unique mix of short pieces designed to confuse. New talent, energetic and unrefined, combined with the experience of the Maas team. 

Two Boys / Guilherme Miotto / DANCE / XL
Two boys with hoodies and closed eyes, in the grey light of a computer screen.
In a big, empty room with enormous shadows, you can see an extreme duet between these two breakers. Going above and beyond the regular skills of the dancers, choreographer Guilherme Miotto creates a true fight to the finish for them.
Two Boys is a sequel to Miotto's Gefallen. The press about Gefallen: To my surprise and my delight these two spastic gentlemen turn out to be a-ma-zing breakdancers (Dancetalks). In his theatrical concept, Miotto makes great use of the urban dance techniques of these two dancers. With this, he qualifies street dance as a theatrical form of art (Dance Europe). A roller coaster of movements. A bizarre mix of tripping and dancing, everyday walks and virtuoso breakdance moves. Supposedly sloppy, rough and uncontrolled, but at the same time constantly focussed (Volkskrant).
For Two Boys, Guilherme works with breaker Joey Schrauwen from Rotterdam who previously danced in Gefallen, and with Shane Boers, member of the Hustle Kidz, one of the most successful breakdance crews.
Crow / Jasper van Luijk / DANCE / XL
High climbs, wild rolls, and virtuoso falls.
Jasper van Luijk creates an acrobatic dance duet based on the first chapter from Murakami's Kafka on the Shore. The young protagonist wants to leave home. He is encouraged by the conversations with his invisible friend Crow and his wise words. Full of expectation, curiosity and optimism, he sets forth into the wide world.
In 2015, choreographer Jasper van Luijk created a version of Crow for adults on Oerol. The press: A moving dance duet (…) The tender play is touching (CLEEFT). The dancers almost appear to have wings at some points (Theaterkrant).
He has now created a version for the whole family, in which he wraps around the desire to fly in energetic dance.
Alaska / Elias De Bruijne / THEATER / XL
In Alaska, you can see three young performers in a brutal rebellion against everything that has ever been determined for them.
A performance with possibly the longest entrance ever. Three explorers are searching for the last piece of unknown world. But everything is already claimed, possessed by someone and already discovered. There is nothing left fighting for and there is nothing new. Where can they plant their flag? Who is the enemy? What is there left to hope for?
But then all of a sudden, there is an outbreak of scurvy, an orthodox church seizes the power and an island with a hundred dodos is discovered. In a wildly clashing explosive dance, the trio creates their own laws in which everything is new and possible again.

PlayStation / Art Srisayam / DANCE / 8+
Explosive theatrical dance mix.
Gaming is like dreaming: facing your fears without any risks and letting your emotions go. But it remains an escape from reality. If only real-life would give you as many chances as a computer game does. One wrong move in the real world and it's game over. PlayStation is an explosive theatrical dance mix.
Warp / Jef Van gestel (Tuning People) / THEATER / 8+
An absurdist, highly imaginative performance with masks of cardboard and tape, snow and blood.
Two people are having a strange speed date in which they continuously adopt different forms. Comfort, love and a terrible accident find their poetry in a weird way of thinking.
Jef van Gestel (Tuning People) previously created the performances Belle and The Broomstick Forest for Theatergroep Max. For Maas, he creates a funny and clumsy mime-act with masks.
Fly! / Rosa van Leeuwen, Jurriën Remkes / THEATER / 8+
We are ready for something big.
We are lifted from our feet, we are taking off. Into the sky. That's where we belong, where we can go wherever we want. We don't know which way to go yet. But that doesn't matter, as long as you just go! If you do what you've always done, you'll get what you've always got. Someday we will drop down to earth again, but that day is still far away. We don't think about that right now.
extra info

extra info

extra info

extra info

extra info

extra info

extra info

extra info

extra info

extra info
Credits
Crow
Choreography: Jasper van Luijk
Dance: Yeli Beurskens, Jefta Tanate
Composition: Lennart Siebers
Costumes: Natasja Lansen
Scenography: Andrea Spoor
Light design: Jasper van Luijk in collaboration with Andrea Spoor
Alaska
Makers: Elias De Bruyne, Lisa Groothof, Gale Rama
Performance: Lisa Groothof, Gale Rama, Jurriën Remkes
Music: Maarten Bokslag
With gratitude to: Marie Groothof
Two Boys
Choreography: Guilherme Miotto
Dance: Shane Boers, Simon Bus
Music, soundscape: Joel Ryan
Scenography, light design: Joey Schrauwen

PlayStation
Choreography: Art Srisayam
Dance: Lynn Meijer, Art Srisayam
Composition: Tom van Wee
Costumes: Nicky Nina de Jong
Graphic designer: Bess Krairat
Bungee Aerial Coach: Janneke van Amelsvoort
With gratitude to: Cherish Menzo
Fly!
Direction, concept, performance: Rosa van Leeuwen, Jurriën Remkes
Music: Djurre de Haan
With gratitude to: Elias de Bruyne, Rutger Remkes, Sanne Danz
Warp
Direction, concept, masks: Jef Van gestel (Tuning People)
Choreography: Art Srisayam
Performance: Art Srisayam, Gale Rama
Coaching triple bill: Dorien Folkers, Sara Giampaolo, Moniek Merkx, Jolanda Spoel
Technique: Andrea Spoor, Marcel van Hassel, Peter Raaijmakers, Dennis Stolzenberg (internship)
Campaign image: -SYB-
Scene image: Phile Deprez
Trailer: Huub Laurens
Er zijn nog geen reacties op Wild Game Unchained 2017
We zijn benieuwd wat je van deze voorstelling vond! Laat je het ons weten?