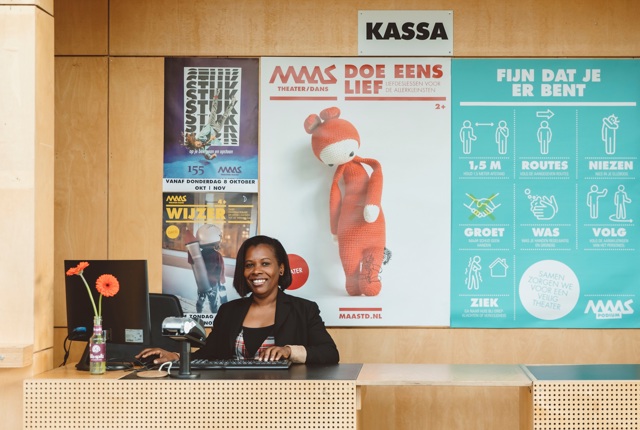 Ticket sales and discounts
Below you will find all information about buying tickets. If you have any questions, please contact us. The Maaspodium can be reached by phone and e-mail from Monday to Friday from 9:00 to 17:00. The box office can be reached by telephone from one hour before the start of a performance.
Phone: 010-2002509.
E-mail: kassa@maastd.nl 
Book and order
Tickets for performances in the Maaspodium can be ordered on this website, at the box office, by telephone or by e-mail. Ordering on the website is the fastest and cheapest.
Order on the website
The cheapest option is to order your tickets directly on this website with iDeal or the Podium Gift Card. This is possible 24 hours a day and there are no extra fees involved. For payments by credit card you pay a small fee. If you order on the website, you will receive your tickets by email. You can print your tickets or have them scanned from your phone.
Order at the box office
The box office in the foyer of the Maaspodium is open from one hour before the start of the performances. Reservations can be collected up to half an hour before the start of the performance. It is also possible to buy tickets at the box office for performances on other days. At the cash register of the Maaspodium you can pay with PIN, Podium Gift Card, Maaspodium voucher / voucher, CJP Culture Card and Theater & Concert voucher (this is no longer issued but is valid indefinitely and can still be returned). From September 1, 2021 it is no longer possible to pay with cash at the box office. Please note: tickets are €1,00 more expensive at the box office than online.
Order by phone or email
It is possible to order by phone and by e-mail. However, you pay € 2,50 service fees per order. You pay the total amount via the payment link in the mail or via manual transfer. After submitting your order, you have seven days to make your payment. If you do not complete the payment process, your reservation will expire.
Discounts
Discount for young people and Rotterdam pass
Are you younger than 30 years, are you a student or do you have a CJP pass or Rotterdam pass? Then you can visit performances in the Maaspodium at an affordable price. You can book your discount tikets both online and at the box office. Please bring the relevant pass with you as proof when you visit the theater.
Special promotions
Special discount promotions via, for example, the Rotterdampas, the Siren Sale or the last minute offers of the Uitagenda Rotterdam cannot be settled with retroactive effect.
Discount for groups
Would you like to visit a performance with a group of ten people or more? Please contact the box office. We often offer groups an interesting price, or nice extras such as a meet & greet. See the group visit page for more information.
Waiting list for sold-out performances
Oh no! Is your favorite show sold out? We can place you on the waiting list, so that you will be notified immediately if a ticket becomes available for you. Send an email to kassa@maastd.nl with your name, telephone number, the performance in question and the number of tickets. We will send you an email as soon as tickets become available. We treat this waiting list in order of registration.
Wheelchair or mobility problems
The entrance to the Maaspodium is on the ground floor, as well as the bar and the disabled toilet. In the theater halls, the first row is on the flat floor. Do you need a front row seat because you have mobility problems, or do you need a wheelchair space? These places cannot be booked via the website, but our staff will be happy to assist you. Please contact kassa@maastd.nl or 010-2002509.
Extras for groups
If you want to visit a performance with a group of 10 people or more, please contact the box office. We often offer groups an interesting rate or other nice extra's. Also view our offer for children's parties and after-school care.