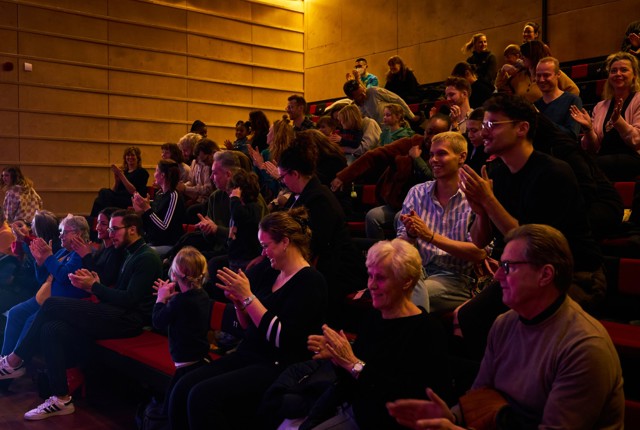 Opening hours
Around performances
The foyer of the Maaspodium is open one hour before the start of a performance. This is also the case when an extra catering arrangement such as breakfast or lunch is offered prior to the performance. After the performance, we invite you back to the foyer. You can still stay for a snack or drink and for children there are always materials to play with for both indoor and outdoor activities.
Be on time
The Maaspodium is a flat-floor theatre. This means that the entrance to the hall is adjacent to the stage. Because it would seriously disrupt the performance, we can no longer admit visitors who are late, once the performance has started. So check the start time of the performance in advance.
M Café
The Maaspodium café is open more often than our theatre halls. Go to M Café for more info.
Accessibility
The entrance to the Maaspodium is on the ground floor, as well as the bar and the disabled toilet. In the theater halls, the first row is on the flat floor. Do you need a front row seat because you have mobility problems, or do you need a wheelchair space? These places cannot be booked via the website, but our staff will be happy to assist you. Please contact kassa@maastd.nl or 010-2002509.
Minimum age family shows
An age is indicated for each performance for children. This is the advice for the minimum age. The theater companies think carefully about age advice that suits their performance, so we recommend that you follow it. Do you still want to bring younger children? If you know that your child will not disturb the performance, you can. For children up to eighteen months old who sit on your lap, you do not have to buy a ticket. The child rate applies to children from one and a half to twelve years old.
Guided tours and workshops
Are you looking for a guided tour or workshop in the theater? Let's talk! We only offer them for group bookings, that's why they're not in our regular program. Please contact us and we will see what we can do for you.
Phone: 010-2002509.
E-mail: kassa@maastd.nl.