By purchasing our merchandise you support Maas in this difficult time. Do you want to give Maas a helping hand without merchandise? Or do you want to add a tip to your purchases? That is also possible and we are very grateful to you for that!
Why a donation?
Maas has had to cancel many performances due to the coronavirus and the entire theater and dance sector have been in dire straits. Our tour performances were canceled in many places and the Maaspodium was closed for a large period of the year. As a result, we not only missed income from entrance tickets, but also catering and rental. We could really use your support. With your contribution, Maas can continue to produce and develop new performances, (educational) projects and workshops for children and young people. 
Donate via Tikkie
One-time donations quickly and easily be done via Tikkie. Click here or scan the QR code with the camera of your phone or iPad, enter an amount of your choice and donate! It does not matter which bank you have and you do not need to have the Tikkie app installed. Thank you very much!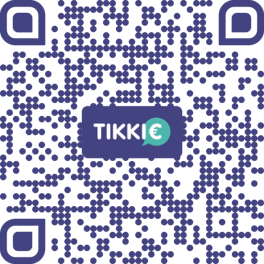 Support Maas in a different way
Would you rather be connected to Maas in a different way and support us with a fixed amount per year? Then become a Maas buddy (10 euros per year), Maas supporter (25 euros per year) or Maas family member (75 euros per year). This way you contribute to the donation fund with which we give children who cannot attend theater for various reasons a heartwarming theater experience in the Maaspodium. If you want to structurally support Maas or if you want to know more about it, please contact Bernadette Stokvis via bernadette@maastd.nl. We would be happy to discuss this with you. 
ANBI status
Maas has an ANBI status. This implies that we are registered with the Tax Authorities as a Public Benefit Organization. Supporting Maas is therefore advantageous from a tax point of view. Because Maas has an ANBI status, it is possible to (partly) deduct a donation to Maas from the income tax. More information about this can be found on the website of the Tax Authorities.