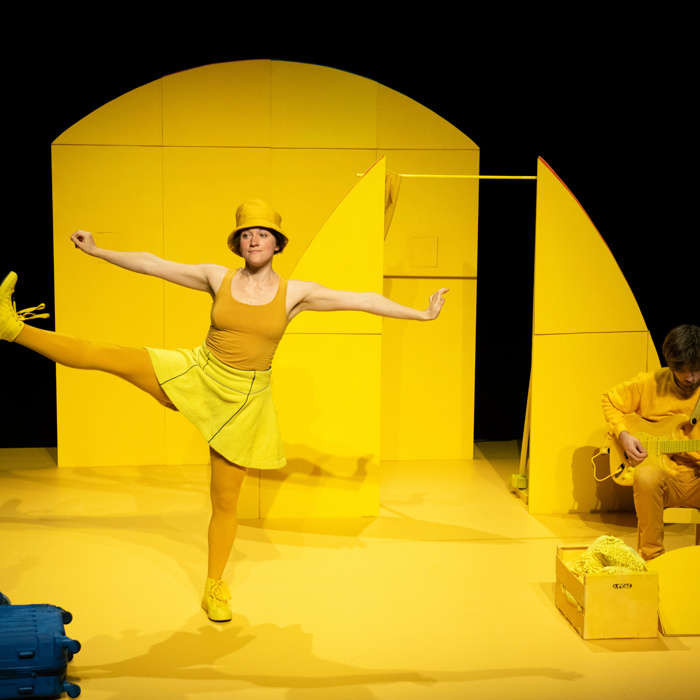 All is yellow, until blue appears...
YELLOW / 2+
By:
Mime Wave / 2-ater producties
Age:
2+
Genre:
Physical theater, Music theater
Yellow
Yellow will take the audience on a journey to a world where everything is yellow. That is no understatement, even the cushion you sit on during the play is yellow. Yellow is the color of the sun, but also the color of happiness. Anastasiia Liubchenko brings a variety of yellow inhabitants to life through mime, with live music by Thijs Felperlaan and Yung Tuan-Ku. The three performers collectively shape the city into something beautiful, life appears perfect in the yellow city.
That is until an entirely new color appears: blue. This is a color that is unknown to the yellow people. And the struggle between yellow and blue seems inevitable. But then something unexpected happens…
Duration: 35 minutes.
Scannen voor toegang (Scan for access)
Maaspodium currently uses the 'Scannen voor toegang' software (scan for access). If you are 13 years or older, you need a specific CR-code to access a performance. The QR-code is your proof that you either have been fully vaccinated for more than 14 days, that you had corona before, or that you are tested within the last 24 hours by testenvoortoegang.org. Read more about Scannen voor toegang.
Extra info

Extra info

Extra info

Extra info

Extra info

Extra info

Extra info

Extra info

Extra info

Extra info
Credits
By:
2- ater producties, Mime Wave
Creators, performers:
Anastasiia Liubchenko, Yung-Tuan Ku, Thijs Felperlaan
Er zijn nog geen reacties op YELLOW
We zijn benieuwd wat je van deze voorstelling vond! Laat je het ons weten?